Ventilating a house is essential in order to evacuate the humidity formed by domestic human activities such as cooking, showering, breathing....
The humidity can cause the formation of molds, mites, which promote allergies, asthma, bronchitis.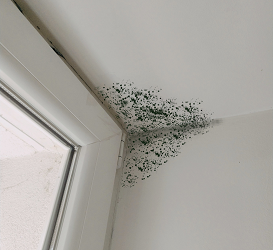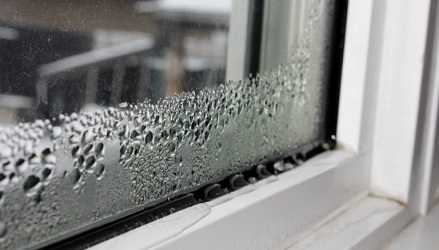 Új Levegő
offers a wide range of ventilation models: from
unidirectional ventilation
with constant airflow or regulated airflow to
heat recovery ones
.
UNIDIRECTIONAL VENTILATION
The principle of operation is as follows:
traditional assembly: drilling of the window frame to place the air inlet. This assembly is recommended because it is perfectly calibrated.
Air-Box gasket type assembly: the gasket is locally cut to allow air entry.
The Auto series provide a constant and continuous air renewal. A
inverter
allows manual swtich to boost mode. The unit can be mounted without inverter to operate in daily mode only.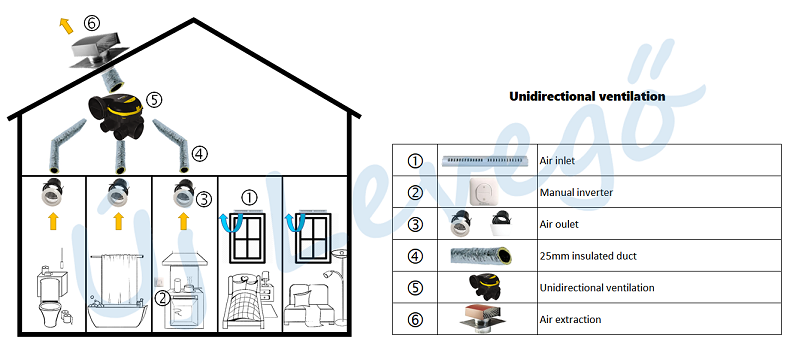 The unidirectional
PurAir
series ensure air ventilation and purification.
Extraction of indoor air by detecting humidity (H2O), carbon dioxide (CO2) and volatile organic compounds (VOC) by intelligent electronic sensors that automatically adapt the purification flow. The manual invertor is not required.
Filter external pollution (pollens, bacteria, fine particles) with AirFilter air inlets.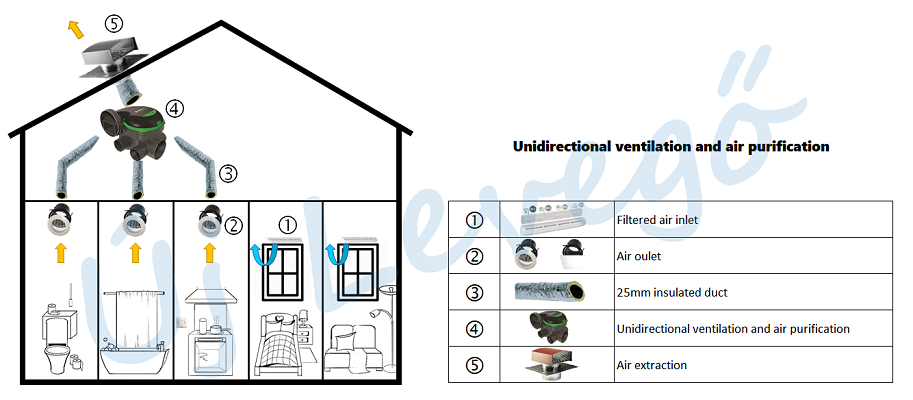 LES VMC DOUBLE FLUX
InspirAir Top
heat recovery ventilation series range ventilate and purify the air with a thermal efficiency of 96% NF205 certification (86% Passiv Haus certification). The principle of operation is as follows:
The fresh air is filtered at the unit level to remove various external pollutants (several filter choices).
The air is then heated inside exchanger by capturing exhaust air calories. During hot summer periods, an automatic bypass allows the exchanger to be bypassed in order to bring in fresh air from outside.
It is then brought into the main rooms (bedrooms, living rooms, offices) by a distribution box and a first network of ducts and insuflation grids.
The stale air is then evacuated by ventilation, through the outlet grids and the second network of ducts.
Finally, it will be evacuated outside through the roof or wall extractors.